Powerful insights to enable improvement.
An easy to use monitoring system covering 6 essential performance and building health indicators.
How well is your building performing?
The GWTI Building Health Monitor provides a real time and across time check on the performance of building systems indicating the relative health of each of up to six elements.
Data is captured in a secure environment using the GWTI Observer and fed into the Health Monitor via the Cloud.
The six performance indicators.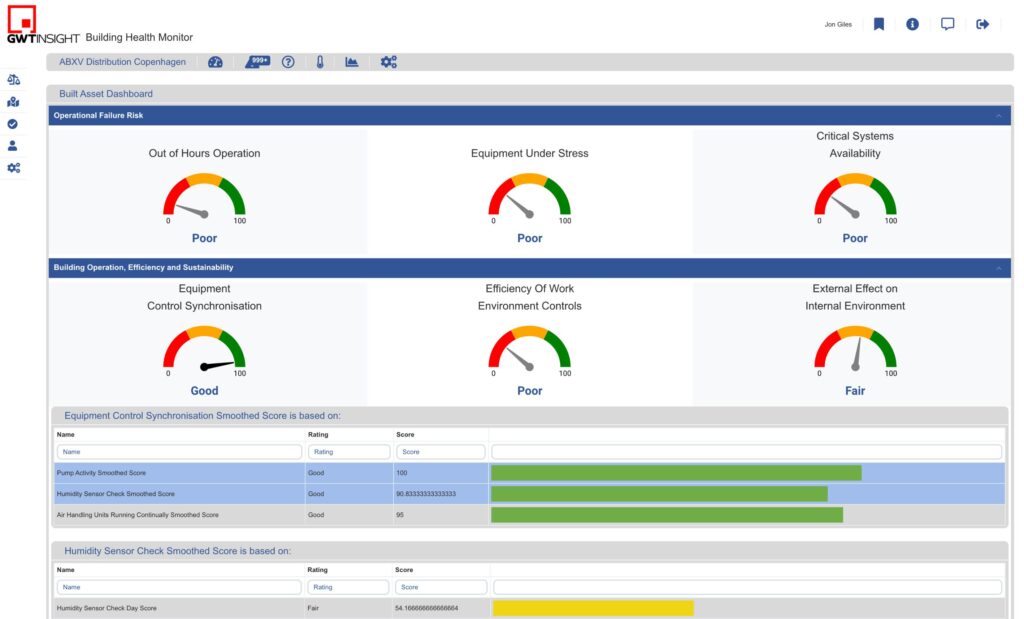 The Health Monitor delivers valuable insights for FM Operators, Property Managers and C suite Leaders responsible for sustainability, cost and risk management.
Users of the Health Monitor point to benefits ranging from reputational risk management to improved safety management, cost reduction to FM strategy decisions and carbon emissions reduction.
 And because the system can be deployed cost effectively creating building portfolio benchmarks using the Health Monitor delivers insights that enable optimisation of capex spending and operation cost improvement.
The GWTI Building Health Monitor is available with the Observer as part of a lease package only.
The Building Health Monitor will provide insights on up to eight dimensions subject to the availability of appropriate system connectivity. This is generally available through active building management systems. 
As with the Observer, the Building Health Monitor is available over 36 months . It is a bolt on with specific terms and charges for the functionality. (Charges on request)
Embedded insights built on rules may be adjusted to align with client specific requirements or focus. 
Support configuring these requirements will attract an additional charge.